Udyamsheel- An Entrepreneurship Development Cell
An ED cell – 'Udyamsheel' has been established with an objective to encourage and promote the aspiring entrepreneurs among the students of HNCC. It was inaugurated on the Occasion of 'World Entrepreneurs Day' on 21st August 2019.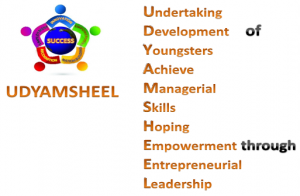 The reason behind naming this cell as 'Udyamsheel' is relevance with Productivity, Innovation and Enterprising. The Logo has been designed with respect to results that could be achieved through increased entrepreneur activities. Success of Enterprise is a result of certain elements of the society, joining hands together. Thus we have used five symbolic entities holding each other.
Entrepreneurial activities result into a number of benefits, right from a person individually to the society and globe at large. This experience was acquired through
an event organized under ED-Cell named as 'Udyamdeep'. It was an exhibition, where total 300 students set 62 stalls of all Diwali special items such as cloths, decorative material, soaps, scented hair oil, pooja materials, books, pen, dairies, diwali special eatables, etc.
| | | |
| --- | --- | --- |
| | | |
| Inauguration of Udyamsheel by Mr. Govardhan Chatla-EDC Cell-1 | Inauguration of Udyamsheel by Mr. Govardhan Chatla-EDC Cell-2 | Mr. Govardhan Chatla addressing during Inauguration of Udyamsheel |
Udyamdeep – A Diwali Trade Fair
Udyamsheel an Entrepreneur Development cell – Organised 'Udyamdeep' – a Diwali Trade Fair (Exhibition cum sale) was organised before diwali festival. Here the students were allowed to install stalls and sell their products so as to enhance their entrepreneurial skill. There were items related Food like diwali faral, Decoration, Accessories,Home decoration, Clothing, Gift articles and Puja Materials. In all 60 stalls were installed and over 2000 footfall was there in a day with more than 2 Lacs turnover.