The Covid 19 pandemic created a standstill situation for everyone.. None of the Industry or sector or profession remained unaffected. In case of students, this situation posed a major problem – what next? How do we go ahead in academics and other development activities?
HNCC has ensured that in this pandemic situation also, students are not just made to wait and see. therefore, technology is used to deliver, assess, develop and provide platform to present – do everything that is required in a student's life.
National Level Online Essay Competition 'PRABANDH'
Online Debate Competition 'Dwandwa'
Covid 19 Pandamic has given rise to a lot of Controversial thoughts regarding Lifestyle, Health, Discipline, Socialism, Policies, intentions, etc. and a variety of Schools of Thought have been established.
HNCC-MBA provided a Single Platform to all students and an equal opportunity for each to Justify… The Section organised an Online Debate Competition with the topics covering the above controversies on 15th June 2020. The debate was organised using 'Google Meet' tool where students participated from their homes yet with a feeling of face-to-face debate through computer / mobile screens.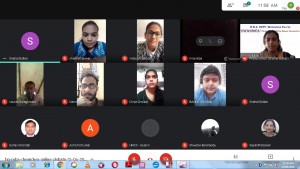 The Result of the competition is as under :
Your browser does not support inline frames or is currently configured not to display inline frames.